Email: elvenprincesswt@hotmail.com
Band name:
Undecided as of right now...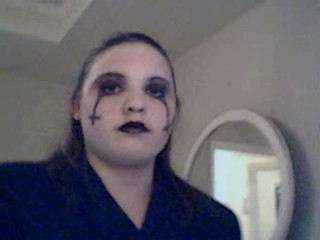 ---
One of my instruments (my viola)...
Description:
If you are going to insult me for being goth. DON'T MESSAGE ME!
Message me with your questions about me.
Quotes
You're killing me inside... and... I'm scared to die.
Sorry, I'll stop talking and start hiding my emotions.
Rumors are just as fake as the people who start them.
"Lie to me" she whispered, "I love you," he said...
Strength is not messured by how much power we have but how many times we get up when we fall.
You laugh because I don't take drugs… I laugh because I'm still here!
People like you are the reason people like me need medication.
I scare my own family.
Do us all a favor and die already.
She/He died and fell off the face of the universe…
I ain't no hick! I done been egamacated!
Dear Ungrateful World…
I think I'm gonna die of boredom…
Stupid idiot! (Well… If they truly are an idiot… Of course they are going to be stupid, Stupid… -.-*)
We love cats… They taste just like chicken!
Can't you hear me falling an endless fall? Can't you hear me calling a never-ending call? Can't you see me bleeding? I'm losing control. Can't you see me dying? I'm dying alone.
Her skin is perfect,
Her Lips are red,
Her thighs are white,
Her Heart is cold,
A Human she was,
A Vampire she is...
There is one quake the rips the soul asunder… It is the pain of remembering.
When the last scene of all comes, and death takes the master in its embrace, and his body is laid away in the cold ground, no matter if all other friends pursue their way, there by his gravesite will the noble dog be found, his head between his paws, his eyes sad but open in alert watchfulness, faithful and true, even to death.
Other ways you can contact me:
AIM:
SuicidalEternalX, PossessedCorpseX, XDeadInMyDreamsX, SaturnineDreamsX, LdyOfTheDeadDawn, SanguineousDemon, and CruorsiccusEruo. (Do I have enough?)
Yahoo:
pestilent_eternal_of_the_grave or usus_somes
MSN:
elvenprincesswt@hotmail.com
Elftown:
SuicidalEternalX
Elfpack:
SuicidalEternalX
Elf12:
UsusSomes
WritersCo:
SuicidalEternalX
DeviantART:
www.princess-l-greenleaf.deviantart.com
Fanart-Central.net:
ElvenPrincessWT
| | | | |
| --- | --- | --- | --- |
| Age: 16 | Year of birth: 1990 | Month of birth: 11 | Day of birth: 1 |
Work:
I study music, chemistry, and astronomy...
Place of living:
Edmond, Oklahoma
Known languages
Chinese
English
Japanese
Spanish
Music
adult pop
alternative
blues
classical
experimental
goth
grunge
heavy metal
house
jazz
new age
opera
pop
progressive metal
punk
rock
synth